Young Manx magicians to appear on CBBC television show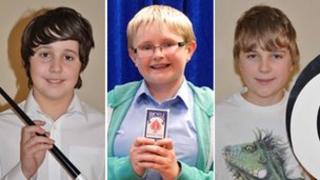 Three teenage magicians from the Isle of Man have been chosen to appear on a new CBBC television series called 'Help! My Supply Teacher is Magic'.
Chris Corlett, 14, Nathan Hill, 13, and Thomas Clague, 12, were chosen after submitting videos of their best trick.
The three attend the Young Magicians of Mann club in Douglas which will celebrate its 25th anniversary this year.
The first episode is on BBC1 on Tuesday 17 January at 17:45 GMT.
The programme features magicians going into school classrooms undercover as supply teachers.
'Fantastic news'
Mike Clague formed the Young Magicians of Mann club in 1987.
Mr Clague said: "It's fantastic news, and a real treat. They are very excited.
"We only had a week to prepare and three out of six were chosen, so we are all very pleased.
"We don't know in which episodes they'll appear, unfortunately, so we'll have to record all 13 programmes."
The three teenagers perform regularly with other members for local charities and events.
They stage an annual show at the Youth Arts Centre. This year's show is on 25 March.
The group will celebrate its silver anniversary in September with a special show at the Gaiety Theatre.