Isle of Man TT: Manx swimming challenge launched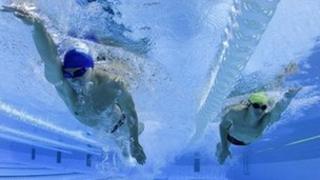 Manx residents are being challenged to swim the length of the Isle of Man TT course to raise money for St John Ambulance Community First Responders.
Swimmers will have 12 weeks to complete 37.75 miles, which equates to 2,416 lengths of the Western swimming pool on Derby Road, Peel.
Organiser and lifeguard Krysy Howard says it was "quite a commitment" but was for a worthwhile cause.
Swimmers can undertake the TT challenge alone or in a team.
A entry fee of £10 will be charged, with all the money given to the Community First Responders, who are highly trained first aiders.
'Quite a commitment'
The first responders are despatched by the Isle of Man Ambulance and Paramedic Service to go to the aid of people who take ill in rural areas.
They often arrive before emergency crews and tend to patients until help arrives.
Ms Howard is a lifeguard at the Western pool trained to be a first responder following the most recent recruitment drive in December.
She said: "If you sign up to the challenge, it's quite a commitment as you'll need to complete around 200 lengths of the pool each week.
"Everyone will receive a booklet to record their miles in and we will also have a sheet at the pool which will be stamped with participants' progress."
Swimmers taking part in the challenge will pay a reduced rate of £2.50 per session and everyone who completes the distance will receive a medal and certificate.