Isle of Man government accused of retreat on BBC issue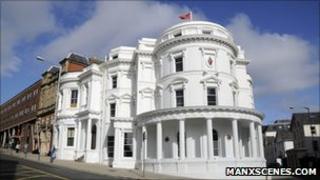 The Isle of Man government has been accused of "wholesale retreat" in its continuing negotiations with the BBC for more island news services.
MHK Phil Gawne, of the committee looking at the licence fee, said a ministerial report missed the point.
The ministerial paper contained a series of recommendations aimed at improving BBC local news services.
The government disagreed with Mr Gawne but acknowledged licence fee payers should get better value for money.
"We need a stronger political line from the Isle of Man government when dealing with the BBC, this report spends more time defending the BBC than it does representing the island's interest," Mr Gawne said.
"In the committee we estimated about £1m worth of deficit in terms of what we pay and what we actually get back from the BBC, this isn't the most we could have potentially asked for.
'Inflated expectations'
"Really we should be looking for about £2m but we went for £1m to show we were prepared to meet on middle ground".
But in an interview with the BBC at the January sitting of Tynwald, Home affairs Minister Juan Watterson said he was not convinced by those calculations.
"The BBC provides a wide variety of services so to take the total amount of collected licence fee and say we should receive that amount of investment is kind of missing the point, after all, a lot of people on the island enjoy National services such as BBC Radio 4 and BBC Radio 5 Live," he said.
"I think there have been some over-inflated expectations here. It is certainly true that the Manx licence fee payer hasn't always had the best value for money, this report has highlighted that, and we are keen to pick up on the recommendations made."
It is thought the Isle of Man government is currently in talks with the BBC over the possibility of an additional annual investment totalling about £100,000.
All sections of the council of ministers' report into the select committee on the television licence fee were voted through by the Manx parliament.