Teacher creates new Manx music book for violinists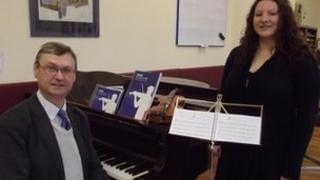 A music teacher on the Isle of Man has created a new book to encourage young violinists to learn to play Manx music.
Laura Rowles was commissioned by the Manx Heritage Foundation to produce the book in May 2011.
Ms Rowles who is studying a PhD in Manx music at Liverpool University says the island has a rich history to draw upon.
Fiddyl will introduce young musicians to Manx music through a variety of pieces as well as providing some history on the music itself.
The music covered in the book is aimed at violinists from a beginner level to grade three.
Ms Rowles is currently studying towards a PhD, looking at Manx fiddlers and their music. She also teachers violin, piano and singing on the Isle of Man.
'Traditional ghost stories'
She said: "Along with singing the oldest records in Manx musical history involve the fiddle. I am fascinated by the subject and it is great that young musicians on the island will be able to learn more about the subject.
"It is used in many traditional ghost stories which the children love," she added.
The book introduces the music through solo pieces, duets and arrangements for fiddle groups and contains background information on Manx music, scales and exercises as well as ideas for composing.
Ms Rowles worked on the book with Tom Field and Melvyn Booth who are both violin teachers with the Department of Education and Children's Music Service.
Together they selected Manx melodies that follow elements of the standard classical violin syllabus and that can also be performed in internal exams organised by the Music Service.
The book will be free to all children who receive lessons through the Music Service on the island thanks to funding by the Manx Heritage Foundation.