Musicians wanted to celebrate orchestra's anniversary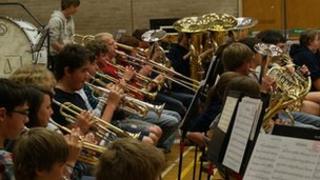 Former members of the Manx Youth Orchestra (MYO) have until Thursday to sign up to take part in their 40th anniversary concert in March.
The MYO launched an appeal in October 2011 for ex-members to rejoin for the celebration which will take place at St Ninian's High School on 24 March.
John Kinley, from the music service, said former members needed to get in touch as soon as possible.
The MYO is run by the Department of Education and Children's Music Service.
Mr Kinley said: "We've got 71 ex-members coming back but there is still room for more and I've extended the closing date until Thursday.
"If any further people want to play, they need to get in touch as soon as possible as we won't be able to accommodate musicians turning up on the day to play," he added.
Ex-members will join the current orchestra for an hour-and-a-half's rehearsal from 10:00 GMT before performing a 30-minute concert at 12:00 GMT.
The ad-hoc orchestra will be conducted by the current musical director Maggie Richardson with the music selected from the youth orchestra's past repertoire.