Bursary awarded to Isle of Man artists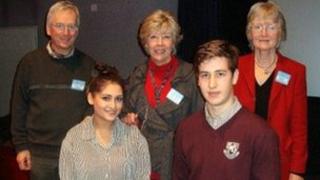 The Isle of Man branch of the National Association of Decorative and Fine Arts Societies (NADFAS) has awarded a bursary to two young artists.
Alex Beadle, who studied at King William's College, and Tamara Halsall, who studied at the Isle of Man College, will each receive £250.
The bursary is advertised to young people going on to study the arts in higher education.
The arts-based charity has more than 340 branches in the United Kingdom.
A spokeswoman said: "Two years ago we instigated a bursary for school leavers who are going on to study art or an arts-related subject and this year it was doubled, such was the calibre of applicants.
"We hope that awareness of this opportunity will enable staff to encourage more students to apply this year."
Mr Beadle is studying for a BA in digital animation at University College Falmouth, while Ms Halsall is studying for a BA in photography at Nottingham Trent University.
The society aims to promote the appreciation of the arts, help in arts education of young people and conserve heritage.