New folk awards will celebrate 'Manx cultural talent'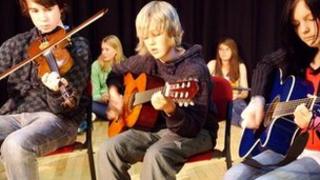 The "cultural talent" of children on the Isle of Man will be celebrated at the first Manx Folk Awards, to be held at the iMuseum in Douglas in March.
Run by the Department of Education and Children, the awards will celebrate the island's music, dance, poetry and song.
Organiser Jo Callister said it was a great way to celebrate the "wonderful cultural heritage" and showcase the pupils' talent.
The awards will include children in all five key stages from 26-28 March.
Ms Callister said: "The awards will keep alive the tradition started by the Cruinnaght Aeg competitions that have run for several years and have always provided an important focal point for Manx music-making in schools.
'Thriving in schools'
"The Manx Folk Awards will continue to provide this important opportunity for young musicians and performers to learn from what others are doing around the island," she added.
There will be 36 categories, including songs in Manx Gaelic, dancing and recitations of poems on a Manx theme or in a Manx dialect.
Ms Callister added: "Manx culture is thriving in our schools and there are some talented soloists and groups being nurtured along by teachers. This will be a wonderful gathering of all that is Manx."
The awards are being run in partnership with the Manx Heritage Foundation and Manx National Heritage and the closing date for entries is Friday 17th February.