British Horological Institute honour island watchmaker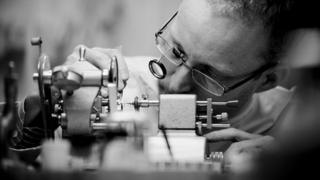 Isle of Man-based watchmaker Roger W Smith says he is "delighted and honoured" to be awarded the British Horological Institute's Silver medal.
The Bolton-born watchmaker was given the award for his dedication to successfully continuing the finest traditions of English watchmaking.
Mr Smith said it was a "tremendous honour to have his work recognised".
The 41-year-old currently has a two-year waiting list for his watches, which start at £72,500.
He originally moved to the island from Greater Manchester in 1998 to work with Dr George Daniels CBE, who he describes as the 'greatest horologist of all time."
'Highest distinction'
Dr Daniels was awarded the BHI Gold Medal in 1981, the highest distinction that the institute offers for his outstanding horological achievement, writing and research.
Mr Smith worked closely with Dr Daniels for more than 20 years before his death in October at the age of 85.
In 1989, Mr Smith was awarded the BHI Bronze Medal after being voted the most outstanding student of the year at the Manchester School of Horology and says he will continue to strive to reach Dr Daniels standards.
"It is fantastic to have my work recognised in such a way and now I will have to try and complete the full set.
"The Gold is awarded to horologists of outstanding prominence the world over, so that is certainly something to strive towards."
Mr Smith made his first pocket watch at the age of 22. He now runs Britain's only fully handmade-watch business, with wife Caroline and his team of watchmakers in Ballaugh.
Every component of his watches is created in his workshop, from the case and dial through to the movement, including the balance and escapement.