Isle of Man 'lacks cohesive strategy' on renewable energy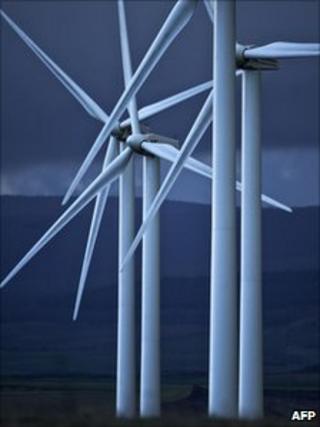 An environmental action group has warned that "time is running out" for the Isle of Man government, in the race to reduce gas and oil dependency.
Tynwald has pledged to have 15% of the island's electricity generated from renewable sources by 2015.
Friends of the Earth Isle of Man said the island "lacks a cohesive strategy" despite its parliamentary commitments.
But a government spokesman said it was taking the issue of renewable energy "very seriously".
He said: "Maximising the potential of natural resources such as wind, wave and tidal remains an important element of the Isle of Man Government's renewable energy strategy - wind farms in and around our seas could be cabled to a central substation in the Isle of Man and connected to the UK grid.
"It is technically feasible and could provide a major economic boost to the island in terms of investment, jobs and income generation. It is something we are looking at very seriously."
Despite this, Friends of the Earth Isle of Man secretary Cat Turner said the group wanted the government to look again at its renewable policies.
She said: "We haven't seen a massive amount of activity since this commitment was made and the timetable seems to be slipping - that is quite worrying given the increasingly urgent imperatives of climate change and peak oil."
An independent report, commissioned by the Isle of Man government in 2010, indicated a need for "significant investment" if the island was to achieve its ambitious energy goals by 2015.
The publication from consultancy firm AEA, warned at the time, there were "no fiscal or economic incentives to promote renewables on the island".