Douglas town centre 'tacky' claim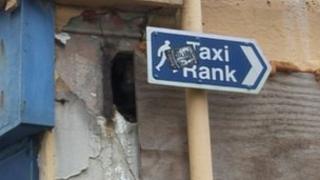 Parts of the Isle of Man's capital are missing out on improvements and becoming "tacky", according to traders.
The concern centres around Castle Street in Douglas which traders claim was being neglected.
One shopkeeper told the BBC shoppers and tourists were staying away because the area looked "neglected and tacky".
Gill Anderson, from the Douglas Development partnership, said she would work closely with shopkeepers to "help promote" retail opportunities.
She added: "The regeneration programme will, in the long-term, benefit the whole of the town centre.
"The successful Christmas Emporium programme we organised in the run-up to Christmas last year was a prime example of an initiative that helped increase footfall in Castle Street and Marina Road, both of which are home to an appealing selection of unique shops."
The regeneration plans are part of an island-wide scheme to revive the towns and villages around the Isle of Man.
The government hopes the projects will reinstate a sense of civic pride and help to boost the local economy.
Ms Anderson said: "We're now planning all kinds of events - some quite audacious - which are guaranteed to surprise and delight in equal measure and are aimed at introducing new and exciting dimensions to the overall town centre experience and will encourage people to explore the wider retail area which has so much to reward shoppers."