Isle of Man childcare cuts prompt Tynwald protest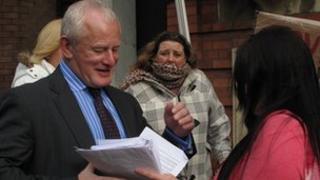 Cuts in childcare provision in the Isle of Man have prompted parents to protest outside Tynwald on budget day.
Plans have been unveiled to close one island primary school and withdraw funding for 11 pre-school facilities.
Parents have handed in a 3,600-signiture petition against the changes, which will bring about 30 job cuts within the education department.
Education minister Peter Karran said the cuts were being made to protect statutory services.
Mother of twins, Julia Charles, said: "Education is a human right, this is not the third world, this is the Isle of Man, the government says the money has gone, but where has it gone?
"I think the government should put the mums and dads in charge of the Isle of Man's budget because we are used to making our own budget stretch every week- so we'll make it work."
Political 'ambush'
Mr Karran said: "No-one is under any illusions over the fiscal difficulties the island faces. Nevertheless, it is with great regret that we find ourselves having to make these savings as we appreciate the impact they will have on the community and we know there will be concern over the loss of these services.
"In some areas, posts will be lost, but we will do all we can to redeploy colleagues in redundant posts, with actual redundancies being very much a last resort."
Protesting mother Hannah Callister said: "I feel like we have been ambushed from behind with this decision, I am sure that every parent here would fundraise or offer to contribute to try and keep these centres open but the government isn't giving us a chance.
"These are the children who are going to be sorting out the mess we have made of the economy- it's just not fair to deny them their education."
The Isle of Man government is asking members of the public to give online feedback about the future of both child and residential care provision.