Oscars 2012: Chico and Rita loses out to Rango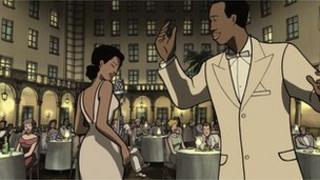 Isle of Man Film's Oscar nominated Chico and Rita lost out to Rango in the Best Animation category at the 2012 Oscars ceremony in Hollywood on Sunday.
Chico and Rita is the 91st project for Isle of Man Film and the first to receive an Oscar nomination.
Artist Juan Moore who worked on the film said: "Obviously it would have been incredible to win but we are all incredibly proud to be nominated."
Ten animators from the island worked on Chico and Rita during its production.
Mr Moore was chosen from more than 100 applicants to work on the project, which won the best animated film category at the 2011 European Film Awards.
The 10 artists worked as colourists in collaboration with studios based in Hungary, Spain and the Philippines.
The story of Chico and Rita is set against the backdrop of Havana, New York City, Las Vegas, Hollywood and Paris in the late 1940s and early 1950s.
It had been considered by many in the industry to be Rango's main competition for the Oscar.