Alan Bennett backs Isle of Man library campaign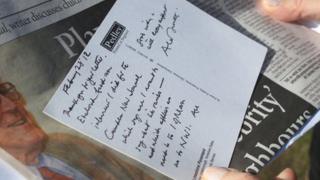 Award-winning British author Alan Bennett has given his support to a campaign to stop the closure of two libraries on the Isle of Man.
Bennett, a playwright, screenwriter, actor and author, has been a vocal campaigner against public library cuts in the United Kingdom for many years.
He has said that the importance of free access to books for children cannot be underestimated.
It was announced in February's budget that two libraries will close.
'Less Alan Bennetts'
Both the family library in Douglas and the island's only mobile library will close from September 2012.
Mr Bennett, 77, offered his support to the campaign by sending a postcard to the Prospect Union which is fighting to keep the libraries open to the public.
Prospect's Angel Moffatt said: "To have the support of such a well respected author is fantastic.
"He says we are losing a really important resource for people who need it most.
"If we lose the libraries we are potentially going to end up with less Alan Bennetts in the future.
"Our libraries provide a vital link to the elderly, housebound, disabled and least privileged in Manx society, they need books and they need free books."
Facebook group
Mr Bennett has also joined the campaign against the closure of the Chalk Farm Library in Camden, where he has lived for 30 years.
He sent a copy of a recent interview in the Camden New Journal with his postcard saying his words applied "as much to the Isle of Man as to NW1".
A Facebook group called Save the Isle of Man's Family and Mobile Libraries has more than 500 members.
The Prospect Union is planning to protest outside the Douglas library on 10 March.