Heritage group calls for balance in Manx economy drive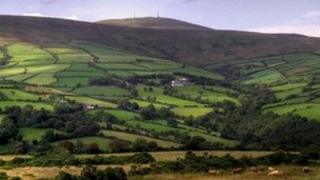 An Isle of Man heritage group has called for "balance" amid government plans to encourage more development.
Manx National Heritage (MNH) has urged caution as plans are considered to free up more land for development.
The proposals in the Planning and Economy report aim to streamline the planning system and attract investment.
MNH Director Edmund Southworth said the balance needs to be struck between protecting the historic landscape and improving the economy.
He added: "Manx National Heritage considers that the Isle of Man's historic landscape is at the heart of its distinctive character.
"It adds significantly to the quality of life of the island and is a key feature in promoting the island both to visitors from abroad and those looking to invest here."
'Equal footing'
The intention of the changes, according to the island's infrastructure minister, is to put economic concerns on an equal footing to those of historical and environmental protection during the planning application process.
Minister of the Department of Infrastructure David Cretney said: "Not for one second would we want to jeopardise land with an historical value but we have to realise, the Isle of Man economy is more important than ever.
"We have to engage with business and remain open to good quality business for the Isle of Man."
The government's Planning and Economy report can be foundonlineand the deadline for public submissions is 3 April.
Manx National Heritage is a statutory board which protects the cultural and historical heritage of the Isle of Man.