Crowds greet the Royal couple in the Isle of Man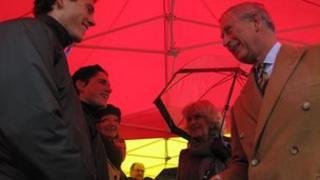 Crowds of people have been out on Isle of Man to greet the Prince of Wales and the Duchess of Cornwall.
The royal couple arrived on the island earlier as part of the Royal Family's tour to mark the Queen's Diamond Jubilee.
The couple began their Manx visit at the National Sports Centre in Douglas where they met some of the island's most promising cyclists.
The second part of the Royal visit took place in the west of the island.
The Prince of Wales and the Duchess of Cornwall met with members of the Peel lifeboat crew and visited the House of Manannan Museum near the marina.
This is the Prince's third official visit to the Isle of Man. His last was for the Tynwald Day Ceremony in 2000.
The Duchess is visiting the island for the first time.
As part of the Diamond Jubilee tour the Prince of Wales is also scheduled to visit the Channel Islands, Canada, Australia, New Zealand and Papua New Guinea.