Nursery cuts prompt Isle of Man investigation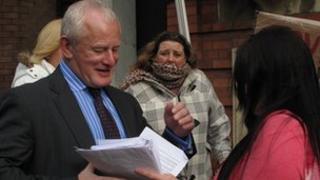 Concern over education cuts in the Isle of Man has prompted an official parliamentary investigation.
The probe comes after a referral from ten members of Tynwald about a decision to privatise pre-school education.
A committee has been asked to determine whether the new policy represents value for money and meets educational needs.
The cut backs, which were announced in February, will see the closure of 11 pre-school government-run services in the Isle of Man.
The new system would mean a government contribution of £350-a-year, for all families and £1,500-a-year for lower earners.
The decision has led to two education members, MHK Zac Hall and MHK John Houghton, being sacked from the department earlier this month, and MLC Dudley Butt resigning from the department in February.
It has also sparked a series of public protests.
The Social Affairs Policy Review committee will take evidence in public from the education minister as well as department officers at 10.30 BST on 2 May.
The session is expected to cover a range of topics including pre-school education.
A Tynwald spokesman said all public submissions should be sent to the Clerk of the Committee by 17:00 BST on 31 May.