Isle of Man motorsport event cut after cost review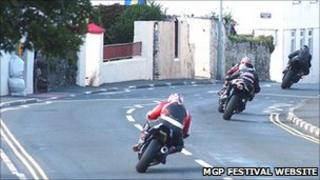 Changes have been proposed to the annual Manx Grand Prix (MGP) after festival losses of almost £400,000.
The Isle of Man government said from 2013 the motorsport event could run for only 10 days instead of two weeks.
The MGP attracts about 9,000 visitors every year but has operated at a loss of £369,000.
A government spokesman said the event could not be sustained when difficult decisions about public service cuts were being made elsewhere.
Colin Kniveton, from economic development, said: "The proposals are built very much on our consultations and market and media feedback.
"It is anticipated that a revised format to the Festival would give the Isle of Man real potential to increase visitor numbers, media profile and commercial incomes."
The festival will continue to include racing on the TT Mountain circuit as well as off-road events including the Manx Classic Weekend Trial and exhibitions.