London 2012: Isle of Man vicar to carry Olympic torch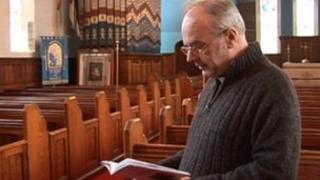 A vicar from the north of the Isle of Man said he was "privileged and honoured" to have been chosen to carry the Olympic torch.
Reverend Cyril Rogers, from Ballaugh, will be a torchbearer on 2 June when it arrives in the Isle of Man.
He is one of about 25 residents chosen from hundreds of nominations.
Mr Rogers said: "My name was put forward by my naughty children and when they first told me about it all, I really thought they were joking."
He added: "I saw what they had written about me on the nomination form and it said how proud they were of me - I didn't care if I was accepted or not at that point. Seeing that was really special."
Health scare
Mr Rogers, who has been in the island for 14 years, has a string of fundraising events behind him which have raised more than £10,000 for charity.
His past exploits, which include a bike ride from John O'Groats to Land's End, came to a sudden end after a recent health scare but with the all-clear from the doctors, Mr Rogers said he was now all set for the June event.
"I was initially quite worried though because I thought torch carrying was the sort of thing that Linford Christie types did, you know, real athletes.
"I thought I would have to run for miles but my mind was put at rest when I found out each torchbearer only does 300 meters. At least I won't disgrace myself by collapsing."
The Olympic torch will arrive at Ronaldsway airport from Liverpool on 2 June at 09:40 BST before it travels around the island.
During its visit, the torch will be carried through Douglas, Onchan, Ballasalla, Castletown and Laxey.
It will return to Ronaldsway at 15.55 BST before flying to Belfast.
During the day, the Olympic torch will be carried out into Douglas Harbour by RNLI lifeboat, Sir William Hillary.