WWII Dunkirk anchor war memorial unveiled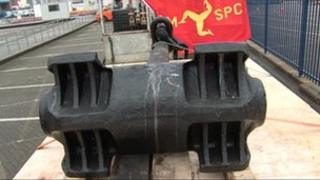 The anchor of a Steam Packet vessel sunk during the Dunkirk landings in 1940 has been unveiled as a war memorial in the Isle of Man.
The Mona's Queen was recovered near France in 2010 and later restored at Cammell Laird ship yard in Merseyside.
The wartime relic was unveiled on Wednesday as a memorial to Manx sailors who died in World War II.
Former Steam Packet chief, Captain Hamish Ross, said it was a symbol of the island's proud maritime heritage.
He added: People can now come to this wonderful memorial, sit quietly and think about the pivotal moment in World War II, in which the Isle of Man took such a large role."
Seventeen of the Mona's Queen's 24-strong crew at the time of the Dunkirk landings, were from the Isle of Man.
The ship was one of eight from the Isle of Steam Packet company which rescued a total of 25,000 troops during the evacuation
The vessel was coming into Dunkirk to take more troops to safety when she was blown up by a mine.