Safety concerns prompt Solway Harvester wreck disposal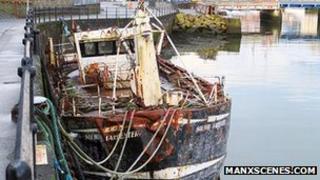 Safety concerns have prompted the Isle of Man government to move forward with wreck disposal plans, 12 years after a fishing vessel sank in Manx waters.
All seven Scottish crew members died after the Solway Harvester scallop dredger sank in January 2000.
The wreck has remained in Manx waters ever since due to the possibility of continuing legal action.
In the June House of Keys, Infrastructure minister David Cretney said the time had come to "move on".
He added: "A commitment was given to the families that the wreck would be retained as evidence until all legal action against the previous owner had been completed.
"However, given the increasing concern and potential risk the vessel poses, it is the department's intention to advise them that it wishes to begin the disposal process as soon as possible".
The Solway Harvester sailed from Kirkcudbright in the early hours of 10 January and headed to the queen scallop grounds of the Irish Sea.
The vessel sank in stormy waters and was later found, lying on her side in 35m (115ft) of water.
The bodies of all seven crew members were still on board. The men were all from the Isle of Whithorn area of Dumfries and Galloway.