Douglas regeneration scheme on schedule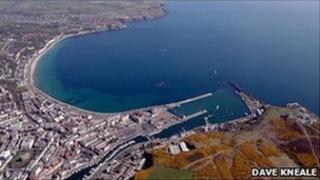 A regeneration scheme linking Douglas town centre's financial and retail sectors is on schedule, according to the island's infrastructure minister.
David Cretney MHK said it will be a "tremendous boost to the economy of Douglas to physically join up the financial and retail sectors".
The multi-million pound project, which began in April, will see improvements made to paving, lighting and crossings.
According to the government, £1m has been spent on the works to date.
The project, which has a total budget of £5m, will see work continue along Nelson Street and Wellington Street. Early next year there will be an overhaul of the island's main shopping street.
Improving safety
Director of highways, Richard Pearson, said: "The feedback we have received on the work to date has been excellent.
"Douglas is the gateway to the island and we hope the quality of the work will boost economic activity in the area going forward."
The next phase of the scheme will focus on improving pedestrian safety in Market Street.
During the work, a temporary one-way traffic system will be introduced.
Mr Cretney MHK added: "I am delighted that the work is making such a difference to the appearance of this particular part of Douglas."
The regeneration plans are part of an island-wide scheme to revive the towns and villages around the Isle of Man.