Isle of Man approves £24m Pinewood studios share deal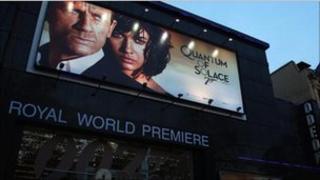 The Manx parliament has approved proposals for a multi-million pound deal with Pinewood Shepperton studios.
In a Tynwald debate, the treasury minister Eddie Teare said the deal presented a "golden opportunity".
The two-part investment involves the island buying up to 20% of shares in Pinewood, at a cost of £24m.
During the five-hour debate, Mr Teare claimed that the opportunity would provide the people of the Isle of Man with "tangible benefits".
The second part of the Pinewood deal would mean that the management of a further £25m, formerly given over to Isle of Man production company, CinemaNX, would also be handed to Pinewood Shepperton.
'Further scrutiny'
The 75-year-old film studio, which is home to the James Bond and Harry Potter films, is controlled by Peel Holdings which owns a 71.06% stake.
Critics to the move included MHK Kate Beecroft, MHK Alfred Cannan and Education Minister Peter Karran.
They objected to the proposals, calling instead for a "clear business plan" and "further scrutiny".
The Isle of Man has invested a total of £170m into the film industry since 1995.
Productions made on the island include motorsport documentary, TT3D: Closer to the Edge, Richard Linklater's Me and Orson Welles and Albatross, directed by Niall MacCormick.