Circus plan for Isle of Man's National Day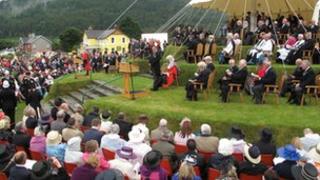 Circus entertainment has been planned ahead of the Isle of Man's national celebrations on Tynwald Day.
The festivities will take place after the annual parliamentary ceremony at Tynwald Hill on 5 July.
The activities, which involve clowns, acrobats and unicyclists, will take place in the field behind the hill.
President of Tynwald, Clare Christian said: "Our National Day provides a unique opportunity to come together in the spirit of national pride."
She added: "Every year Tynwald Day offers something new and 2012 will be no exception, with the emphasis firmly on presenting young people with exciting opportunities to interact with performers and artists and acquire new skills."
Tynwald Day is the only day of the year when parliament is held in the open air and the public get the chance to lobby the law makers by presenting petitions.
The ancient ceremony has been held at Tynwald Hill for more than a thousand years since the time of the Vikings.
Tynwald is the oldest continuous parliament in the world.