Isle of Man aircraft registry reaches 'milestone'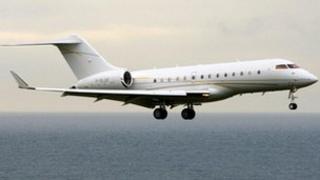 The Isle of Man aircraft registry has reached an important "milestone" after securing its 500th contract, according to the government.
The latest move brings a VIP jet, the Bombardier Global 5000, into the Isle of Man's portfolio
The exclusive business jet can seat up to 18 passengers and can fly anywhere in the world with only one fuel stop.
The register, which includes overseeing aircraft safety, is part of the Isle of Man department of economic development.
It was set up in May 2007 to encourage legal and insurance business to the island.
Following on from the success of the Isle of Man initiative, Guernsey is also expected the make similar industry moves by 2013.
The Channel Island aims to have 150 aircraft registered within two years.