Isle of Man £2.6m reservoir opened in Glen Auldyn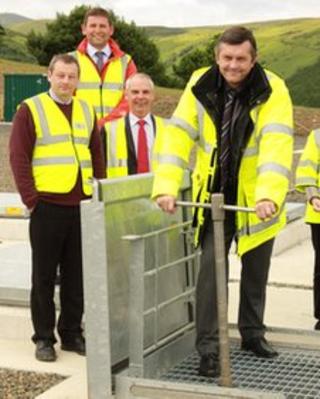 The £2.6m Ramsey service reservoir has been officially opened in Glen Auldyn.
The facility replaces the 19th century service reservoir located under the old water treatment works in Ballure.
Graham Cregeen MHK said: "It will improve the security of water supplies to 13,500 customers in the north and east of the island."
The underground reservoir holds 1.5m gallons. According to the Water and Sewerage Authority, the project was delivered on time and under budget.
Mr Cregeen said: "It's an impressive piece of engineering. It is built 15 metres into the cliff side but if you look you wouldn't know it was there."
The reservoir, which is located approximately 90 metres above sea level and on the side of a steep incline, is a very similar design to the Ballagawne Service Reservoir which was commissioned in May 2011.
It is three times bigger than the Ballure reservoir it replaces and more than 30,000 tonnes of rock was removed from the site during its construction.