Man sustains chest injuries in Isle of Man crash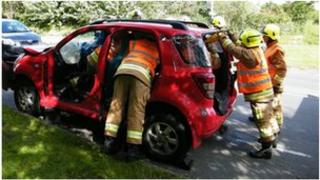 A man has been taken to hospital with chest injuries after a road collision in the Isle of Man.
Firemen cut the man free from his Daihatsu four-wheel drive after the collision with a Ford Focus on the Ballafletcher Road at 09:00 BST.
A fire and rescue service spokesman said: "The man was removed from the rear door of his car which took around 25 minutes."
The driver of the Ford Focus was not seriously injured.
The spokesman said: "The fire crew had to increase the available space by cutting away the doors so that the male occupant could be handled safely into the waiting ambulance without exacerbating his injuries."
It was the second time in 24-hours that the fire service were mobilised. They were also called to a single-vehicle crash in which two people sustained back and neck injuries on Wednesday.
Fire crews from Douglas needed to remove the roof of the Land Rover Discovery to free its occupants after it crashed and rolled on the Brandywell Road.
Both occupants were taken to Noble's hospital for treatment.