Hundreds attend the annual soap box derby in Port Erin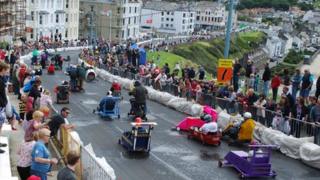 Hundreds of people attended the annual soap box derby in Port Erin on Sunday, which sees teams hurtle down the promenade in self-made machines.
Entrants are given a basic kit to create a gravity-powered car to compete in the downhill race, which is held on Port Erin promenade.
This year Team Over Engineered beat 35 other teams to take the overall victory in a time of 17.629 seconds.
Last year's champion Grenaby Limeworks finished third.
The team spirit award went to the Dirty South for their 'Wild West' themed entry, which featured a stage coach kart.
The best design was awarded to the Chimney Doctors.
Organiser Damian Brand said: "We couldn't have hoped for a better day - everything went to plan, including the weather.
"The quality of the entrants seems to improve every year and the imagination and creativity on show is remarkable."
Each team had two runs with the best 10 average times progressing to the final.
The other 25 teams faced the "gauntlet of shame" which saw them subjected to a barage of water bombs on one final descent.
The weekend Port Erin also played host to a three-day beach festival which included a sailing regatta, beach sports and live music.