Kayaker Joe Leach sets around Britain record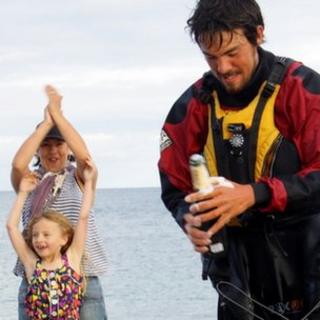 A 24-year-old from the Isle of Man has become the fastest man to circumnavigate Britain in a kayak.
Joe Leach, who now lives in Cornwall, started his 1,800 mile challenge from Falmouth in May and took 67 days to complete his journey.
"I was incredibly focused on getting all the way around. I'm really happy to break the record," he said.
The Port St Mary man's new record was five days quicker than the previous record of 72 days held by John Willacy.
'Popped a bottle'
Mr Willacy had only set the record in June having broken the previous best time of 80 days.
Mr Leach continued: "John was incredibly helpful to me. Not only did he help me set points to aim for but he also helped to design the kayak that I used for the challenge. I really appreciated his help.
"It is really hard to adjust back to normal life but I am getting there. I think I could have gone even faster but I was delighted to get the record."
"It was amazing to get back and be greeted by family and friends, I popped a bottle and just enjoyed the moment."
Mr Leach visited the Isle of Man on day fifteen of his adventure and described the moment as the "highlight" of the trip.