Manx Office of Fair Trading issues mattress warning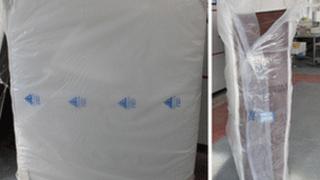 Manx residents have been warned not to risk buying a "potential death trap" after mattresses seized by enforcement officers failed safety tests.
The Isle of Man Office of Fair Trading (OFT) is concerned that "memory foam" mattresses sold through classified adverts do not meet safety legislation.
OFT chairman David Quirk said consumers should "stick to genuine traders".
Samples from two seized mattresses failed safety tests.
'Extremely questionable '
Mr Quirk said: "The mattresses appear to be heavily discounted, for example, a king size mattress was priced at only £160 rather than the extremely questionable recommended retail price of £999, but what may appear to be a bargain could turn out to be a potential death trap.
"It is stated on a label on the mattresses that they comply with current fire safety regulations but the validity of this statement is obviously very much in doubt."
In May, the OFT warned local consumers to be on their guard following instances of highly flammable "memory foam" mattresses, mattress toppers and pillows being sold by rogue traders in the UK, often house-to-house or through adverts in local newspapers.
Anyone who has purchased a similar mattress should contact Trading Standards.