Bottlenose dolphins and basking sharks in Manx waters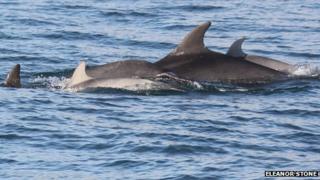 A pod of around 30 bottlenose dolphins has been spotted off the south west coast of the Isle of Man, according to the Manx Whale and Dolphin Watch.
The large pod was sighted near Fleshwick Bay along with two adult basking sharks at 17:00 BST.
Tom Felce, from the group, said: "It is incredible to see, and for them to be swimming with basking sharks is even better."
Three separate basking shark sightings have also been recorded in Peel.
Mr Felce added: "It is rare to see such a large pod of bottlenose dolphins, especially in summer."
Any sightings or good photographs should be reported to the group as it aims to provide a detailed picture of dolphin, whale and porpoise numbers in Manx waters.