Isle of Man hopes for Cavendish gold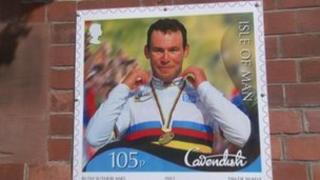 The Isle of Man is gearing up to support cyclist Mark Cavendish in the men's road race at London 2012.
If he wins, Cavendish will become the first Manx man in 100 years to win an Olympic gold medal.
In 1912, Sulby-born rower, Sidney Swann won gold in the Stockholm Olympics before going to to win silver in 1920.
Cavendish's former coach Dot Tilbury said: "Every man, woman, child, grandmother, auntie, dog and goldfish in the Isle of Man will be watching."
Cavendish is in action in Saturday's road race, less than a week after winning his third stage at this year's Tour de France.
The Southern Agricultural show will be showing the race on a big screen as will many of the pubs around the island.
'Great Ambassador'
Chief Minister Allan Bell said it's a great day for the Isle of Man.
"Mark is a great ambassador for the island, a great ambassador for his sport and we are looking forward to a good performance from him on the day."
Cavendish began cycling aged nine when he joined his local club in Douglas - his determination soon became apparent.
"He didn't like losing," continued Mrs Tilbury, "He started to win and often he would lap the other riders in the field".
His father, David Cavendish said his son's career makes him extremely proud.
"It's unbelievable, I am proud of him in general but to see him achieving at a world-class level is tremendous.
"Everyone on the island is extremely excited about this, I think we'll all be glued to the television," he added.
Saturday's road race, which gets under way at 10:00 BST, is a 250km route, taking riders from the heart of London to the Surrey countryside and back.