Plans for 2013 Manx Grand Prix Festival announced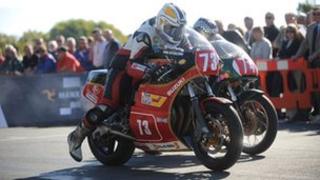 A provisional schedule for the 2013 Manx Grand Prix has been agreed as ongoing talks between the government and the Manx Motor Cycle Club continue.
The festival will retain elements of the existing Manx Grand Prix programme while using the TT brand to develop a new Classic TT.
John Shimmin, MHK, said both parties were "delighted with the progress".
The government had wanted to re-name the event using the TT brand, shorten it and focus on classic bike racing.
Opposition from the island's motorcycling community has led to fewer changes being made for 2013.
The Manx Motor Cycle Club (MMCC) will be responsible for the role of promoter and organiser of the Manx Grand Prix races, with financial assistance being provided by the Department of Economic Development.
Additional visitors
MMCC chairman Harvey Garton said: "We have a clear way forward for the Manx Grand Prix Races as part of the festival and will be working closely with the Department of Economic Development to build and grow the event.
"We are now focusing all of our efforts on delivering a successful 2012 event."
The Manx Grand Prix, which is held each September, is often seen as a stepping stone for TT qualification.
Minister for the Department of Economic Development John Shimmin said: "We are confident that we have a clearly segmented and focused festival that can generate additional visitors to the island and the team will look to further develop the Classic TT and festival."
The festival will incorporate the Classic TT races, the Manx Grand Prix races, the Manx Classic, the Manx Two Day Trials and the VMCC Manx Rally, which will include the Festival of Jurby.
This year's two-week event will get under way in the Isle of Man on 18 August.