Dolphins, basking sharks and minke whale in Manx waters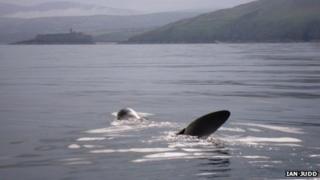 Basking sharks, Risso's dolphins and a minke whale have been spotted off the Isle of Man coast, according to the Manx Whale and Dolphin Watch.
A pod of 10 Risso's dolphins were spotted in Port St Mary before 12 basking sharks were seen off the west coast of the island on Wednesday.
The group, which circumnavigated the island during the day, then saw a minke whale south of the Ayres.
Tom Felce, from the group, said: "It has been a remarkable day."
The group also sighted 16 porpoises during their research trip around the Manx coastline.
'Very exciting'
The Manx Whale and Dolphin Watch are looking to provide a detailed picture of dolphin, whale and porpoise numbers in Manx waters.
Mr Felce said: "The weather conditions have changed in the last few days and it has clearly attracted them to the surface. It was very exciting to see the Risso's dolphins in the south of the island and as we continued we saw more and more.
"We came across around 12 mid-size basking sharks just off the coast, in between Kirk Michael and Jurby. One of the sharks looked very small and could well have been a juvenile, which in itself is very exciting.
"To round off the day by seeing a minke was brilliant. The east of the island wasn't so good, unfortunately the sea state picked up as we passed the sound back onto the west making it difficult to spot anything else."
The group also spent time tracking a pod of bottlenose dolphins off the coast of Laxey, which arrived in Manx waters in July.
It is hoped that photographs will help to link the dolphins with a pod from Cardigan Bay in Wales.
Any sightings or good photographs can be reported to the Manx Whale and Dolphin Watch.