Manx motorbike enthusiasts on track for world record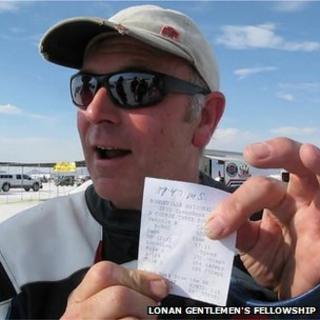 A team of motorbike enthusiasts from the Isle of Man are half-way to setting a new land-speed record on a machine built in the island.
The team needs to average more than 176 mph over two runs at the Bonneville Speed Week in Utah to set a new world record in the modified 500cc class.
The Lonan Gentlemen's Fellowship's first run was more than 10mph quicker than the 1970 record at 186.37 mph.
Project Manager Suzy Starlite said: "Half-way there. We are so excited."
The team will complete their second run on the salt flats of Utah on Monday.
The team consists of the reigning British sprint champion Paul Hodgson, Bob Watson, Stu Harvey and Suzy Starlite, with rider Richard Barks.
The project to build the bike has been going for nearly two years and has seen many local businesses come on board to help with manufacturing parts and sponsorship.