Isle of Man offshore wind warning after boy's rescue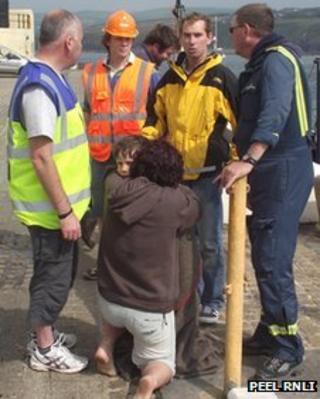 The rescue of a boy who was swept two miles out to sea by strong offshore winds has prompted a warning from Isle of Man RNLI members.
The seven-year-old from Onchan was playing in a plastic kayak near Glen Wyllin campsite when he was quickly swept out to sea.
The boy was picked up by a fishing vessel which was in the area.
Peel RNLI's Mal Kelly said: "It highlights the danger of offshore winds and the importance of life jackets."
His mother had swam more than 100 metres out to sea to help her son but could not reach him. The campsite warden also attempted to catch the boy on a kayak after calling the RNLI.
'Tragic results'
He was picked up by a local crab boat after more than one-and-a-half hours at sea and transferred to the Peel lifeboat soon after.
The boy, who was camping with family during the school holidays, was reunited with his mother in Peel.
Mr Kelly continued: "He wasn't wearing a life jacket and lost his paddle - this story could have had a totally different outcome.
"The mother obviously didn't appreciate the dangers of strong offshore winds and this was a rescue that could very easily have ended up with tragic results.
"In cases when we get strong offshore winds very close in to the beach it can appear calm but when you get 100 or 200 metres out it can change very quickly.
"A very light craft like that could whistle over the waves. We urge people to pay attention to the weather conditions and always, always wear a life jacket."
The Peel lifeboat crew had to abandon their annual lifeboat service to help with the rescue.