2012 Paralympics: Sharpe "disappointed" to miss London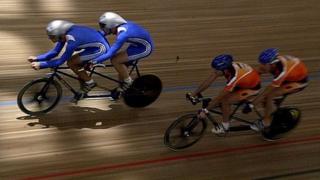 The Isle of Man's most decorated Paralympian Ian Sharpe has said he is "hugely disappointed" not to get the chance to go for gold in London.
Mr Sharpe, who is visually impaired, has won 10 Paralympic medals at five separate Games, but failed to find a suitable pilot for his cycling event.
The 41-year-old said: "It's really disappointing that it hasn't worked out this time."
The Laxey man has represented team GB as both a swimmer and a cyclist.
In a glittering career, the father-of-two has won five silver and five bronze medals but said he "would have loved the opportunity to go for gold in front of a home crowd".
'Lure of London'
In 2008, he put all his efforts into the development of a revolutionary tandem bike, but the design did not work when tested and he did not compete in Beijing. His pilot Paul Hunter then retired but Mr Sharpe said the lure of London was too strong for him to retire.
"Had the games been anywhere else I probably would have packed it in there and then. Getting the chance to compete on a world stage in front of a home crowd has been my motivation for a long time; I have never had the chance to do it.
Mr Sharpe, who began his career as a swimmer before moving onto the triathalon and eventually cycling, believes he is fit enough to win gold but could not find a suitable pilot to compete in time, despite his best efforts.
He continued: "Finding another pilot has been the big issue for me over the past three and a half years. I have tried to find people here on the island who would be capable of riding with me but that has been very difficult.
"I started looking for people in the UK and did have some success with that but one person suffered from injuries and another had problems with balancing work and training commitments, so we just didn't get enough time on the track.
'So many obstacles'
"Basically there has been a whole load of factors which have made it difficult to get on the list of candidates for London," he added.
In March, he did find a suitable pilot in Edinburgh but due to work commitments the pair didn't even get on the track together to get a time in to qualify.
Mr Sharpe continued: "From my point of view, that is the most disappointing thing, I finally found someone who was capable of getting a good time with me but ultimately we didn't have enough time to move forward with it.
"It's really disappointing that it hasn't worked out. I know that if I was riding in the Paralympics I have put enough time in to be capable of winning a medal, but I am not even able to ride. There are so many obstacles to get round in the run up to something like the Paralympics.
"I didn't just want to make up the numbers, I wanted to win a Paralympic gold medal- it is the only thing I haven't won- but it hasn't worked out."
After achieving success at European and World Championship level Mr Sharpe was selected to represent Great Britain at the 1988 Paralympics in Seoul, where he won a Silver and two Bronze medals.
Further silver and bronze medals were to follow in the next three Paralympics in Barcelona, Atlanta and Sydney.
The Paralympic Games will begin in London on Wednesday.