Isle of Man ferry returns after medical emergency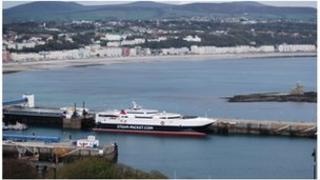 An Isle of Man ferry was forced to return to Douglas earlier after a medical emergency on board.
The Isle of Man Steam Packet's Manannan service departed for Liverpool at 07:25 BST but returned almost immediately after a passenger was taken ill.
A Steam Packet spokesman said: "The Manannan had to return to Douglas port due to a medical emergency."
The passenger was taken to hospital by ambulance and the ferry left port again for Liverpool shortly before 08:30.