Isle of Man road closed after landslide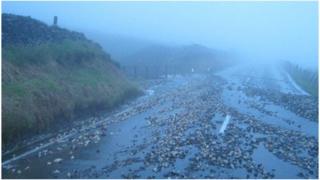 The Isle of Man's Snaefell Mountain Road has been closed after a landslide caused by sustained heavy rain.
The Department of Infrastructure (DoI) is clearing the debris and water from the road and said it would stay closed until 12:00 BST on Saturday.
A police spokesman said: "The Mountain Road will remain closed from Ramsey Hairpin to Creg Ny Baa, whilst the DoI continue their work."
The DoI recently carried out work to improve drainage on the road.
Richard Pearson, director of highways, said: "The recent drainage work has certainly prevented a more serious situation.
"Nonetheless there is significant debris on the road which has been washed on to it by the pressure and volume of water.
"We are in the process of clearing this as well as protecting the edges of the road.
"There is further rain forecast which should clear later tonight however we believe the worst of the flooding is over."
Police are warning motorists to drive carefully and keep their speed down as there is a risk of aquaplaning.
The opening practice session of the Manx Grand Prix is still scheduled for 17:00 BST on Saturday.