Isle of Man charity Rob Vine Fund receives thousands of pounds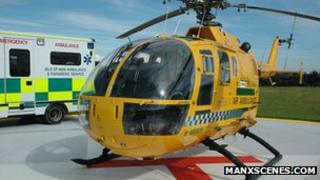 Thousands of pounds have been raised for a charity which supports medical services during the TT races and other motorsport events on the Isle of Man.
More than £13,000 was collected from TT visitors for a fund set up in the name of competitor Rob Vine, from Kent, who died during the Senior race in 1985.
The money will help provide medical and rescue equipment and training for doctors, paramedics and marshals.
Dr David Stevens said the money also supported the rescue helicopters.
During the past 17 years the fundraising initiative, which takes place annually on the ferry, has raised more than £180,000.
Chief of the Steam Packet company Mark Woodward said: "'We are grateful to the travelling public for the donations which are vital in helping maintain the equipment for such a worthwhile charity.
"The work they carry out is vital and without their good work the much-loved motorsport events on the Island would not be able to take place."