Fog blamed for Ronaldsway airport passenger number fall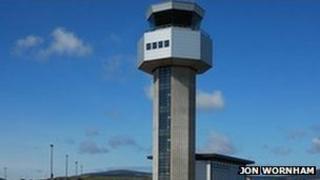 Consistent mist and fog at the beginning of July has been blamed for a fall in summer passenger numbers at Ronaldsway airport.
Passenger numbers for the month at the Isle of Man airport showed a 2% fall on last year.
In July 2011 63,520 people travelled through, compared with 61,820 in 2012.
Ronaldsway airport director Ann Reynolds said: "Unfortunately, the island's weather at this time of the year can be pretty unpredictable."
She added: "Delays and cancellations over just a few days can easily shave a couple of per cent from our monthly passenger throughput."
Overall passenger figures for 2012 are currently lower than last year, with 402,269 people having travelled through the airport compared with 403,111 in 2011.
A new British Airways service between the Isle of Man and London City has generated 6.3% more passengers in the first month of operation than were carried by the previous operator, Aer Arann, in 2011.