Mannifest Loaghtan Ram sculpture arson probed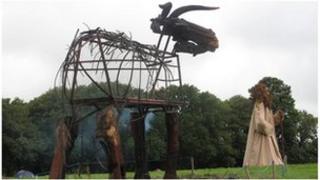 An arson attack on a 15ft tall sculpture of a Loaghtan Ram is being investigated by Isle of Man police.
Police said the sculpture was burnt down in the early hours of Thursday at the Glenlough Campsite in Union Mills.
A spokesman said they were interested "in speaking to two males acting suspiciously in the area around the time of the incident".
Anyone with information should contact Peel Police station.
The sculpture had been on permanent display at the campsite since it was commissioned by the Mannifest music festival in August 2011.
Artist Stephanie Quayle-Jackson said: "I am so upset. I can't understand why anyone would do this."
The sculpture took more than three-weeks to create and was constructed around a metal structure.
It had recently been re-vamped for this year's festival in August.