Isle of Man TT: Mark Cox completes charity cycle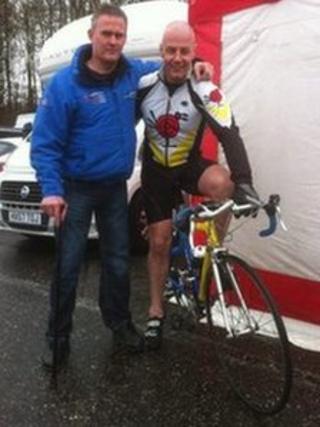 A TT sidecar champion who suffered career ending injuries at the Isle of Man event has said he is "over the moon" to complete a charity bike ride.
Mark Cox, from Kent, was involved in a high-speed crash in 2009, which left him and Manx driver Nick Crowe with a number of serious injuries.
The 42-year-old completed three laps of the TT course on Sunday to raise money for a fellow injured racer.
"It went really well and I did far better than I expected," he said.
"The weather was pretty good on the day and hopefully I have raised a lot of money."
Mr Cox and Mr Crowe, who achieved a TT double in 2008, had been leading the sidecar race when they crashed on the approach to Ballaugh on the first lap of the race.
'Amazing feeling'
It is thought they hit a hare at more than 100mph and the race was abandoned after the accident.
The three-lap cycle challenge on Sunday was the equivalent distance (113.25 miles) of a sidecar race at the TT.
"It was a fantastic challenge and it was an amazing feeling to see the chequered flag at the end of the third lap," Mr Cox said.
Three years on from the crash, the Rochester racer still faces surgery on his injuries including operations on both knees and a hip replacement.
Following a number of operations, one of his legs is now 24mm shorter after it had to be fused and broken on more than one occasion.
Mr Cox was raising money for fellow TT sidecar racer Rick Long who suffered serious injuries in an accident at an invitation race at the Hockenheimring in 2008. The accident claimed the life of his driver Steve Norbury.
Mr Long said: "It's incredible what Mark has achieved. It has brought tears to my eyes."