Isle of Man walking fundraiser reaches £100,000 mark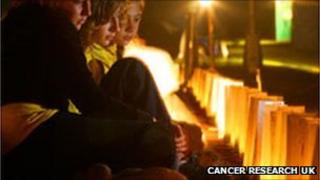 An annual 24-hour walking challenge in the Isle of Man has reached a fundraising milestone of more than £100,000 in three years.
The third Manx Relay for Life event took place at the National Sports Centre on 25 and 26 August to raise money for Cancer Research UK.
The target makes the island the highest fundraiser in the North West region.
Gaynor Haxby, organising committee chairman, said more than £80,000 was raised in the event's first two years.
She added: "The total raised this year was about £24,000 and last year this figure doubled by the time of the cheque handover.
"It would be fabulous if this happened again this year but even if it doesn't, Relay IOM had raised well over £100k in its first three years which is a fantastic achievement."