Kayakers rescued by lifeboat from sea off Isle of Man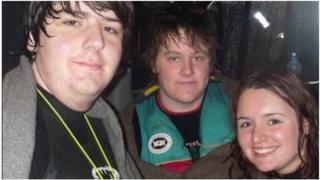 Three teenage kayakers were rescued from the sea off the Isle of Man after one of their boats capsized.
Two 17-year-old boys and an 18-year-old girl were picked up by Peel RNLI after one of the boys capsized near Glen Maye and lost his boat at 19:55 BST on Wednesday.
All three had made it to the shoreline before they were collected by the Peel lifeboat Mary Margaret.
It is the third time the RNLI has rescued kayakers in the past two weeks.
Peel RNLI's Mal Kelly said: "The dangers are clear to see.
"All three were well equipped and wearing wetsuits and life jackets, but they were caught out with a sudden change in wind direction and one was tipped into the sea.
"The others tried to assist but all ended up having to take to the cliffs for safety.
'Tragic consequences'
"One of the boats drifted out to sea close to dark but the other two were secured on land."
The lifeboat returned to Peel with all three on board at about 21:00 BST.
On Tuesday a nine-year-old girl was rescued at Derbyhaven, just two weeks after a seven-year-old boy was swept out to sea near Glen Wyllin.
On both occasions their mothers had try to catch them but could not keep up. Neither were wearing life jackets and both had lost their paddles.
Mr Kelly added: "These situations could all have had tragic consequences. You only have to look at what happened in Gairloch [in the Scottish Highlands] on Sunday to see that."
The RNLI recommends that all children should wear life jackets.