Flooding forces Isle of Man road closures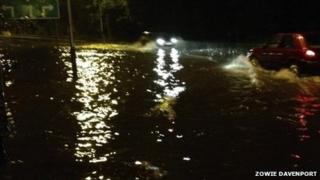 Torrential downpours in the Isle of Man have led to the closure of a number of the island's roads.
The emergency services control room was inundated with calls after heavy rainfall caused numerous floods along the east of the island.
Fire and rescue crews from Douglas and Laxey attended flooding in Douglas, Onchan, Baldrine and Laxey.
Some roads were made impassable by the standing water after manhole covers were dislodged.
Fire crews worked with police, civil defence, Douglas Corporation and the Department of Infrastructure to deal with the flooding.
Station officer Carl Kinvig said "it is unusual to have such incidents at this time of year, but all agencies worked well to bring the flooding under control shortly after 22:30 BST".
"Several of the incidents were caused by blocked culverts, and drains," he added.
With further rain expected in the island, the fire service is advising the public to check that all drains, gutters and grids around their properties are clear and rain water can flow freely away.