End 2 End: Record number contest Isle of Man challenge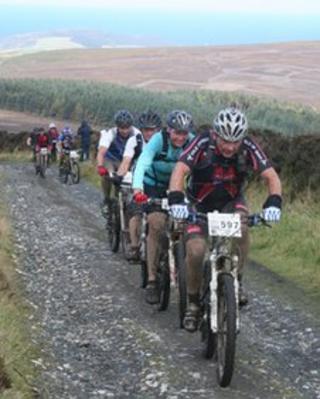 A record 1,700 mountain bike riders from around the world have taken part in the 46-mile End 2 End challenge on the Isle of Man.
Riders tackled a variety of terrain and climbed more than 1,500 metres as they rode from Point of Ayre in the north to Cregneash in the south.
Now in its 16th year, the challenge reached its capacity within a month of registration opening.
Organiser Steve Honeybone said: "It just goes from strength to strength."
This year the course remained largely the same, but the first major climb was altered. The full course details were confirmed on Friday.
Mr Honeybone said: "We made the announcement late because we did not want riders venturing on to private land.
He added: "The level of interest is amazing but we had to cap it for the riders' safety."
Former Olympian Nick Craig has won the previous four races.
The 43-year-old, from Hayfield, said: "To see that amount of cyclists all lined up at the start is a breathtaking sight and to know they are all chasing me down makes me a bit faster."
The race began as a group of friends cycling across the island for fun.
More riders completed the course than ever before in 2011, with 1,063 finishing the challenge.
Top riders have completed the race in under three hours and there is a seven-hour time limit.