Manx Grand Prix 2013 proposal published by government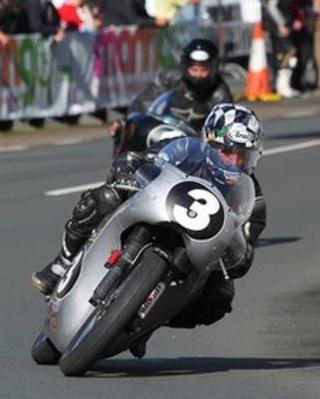 A number of proposed changes to the 2013 Manx Grand Prix have been published by the Isle of Man government.
The proposed changes come after lengthy talks between the Department of Economic Development (DED) and the Manx Motor Cycle Club.
They include the introduction of a new Classic TT class, which will become a main part of next year's festival.
The new class will take place over the middle weekend and Bank Holiday Monday.
The Manx Grand Prix Races are scheduled to run on the following Wednesday and Friday with practice and qualifying taking place during the previous week.
The Department is inviting feedback for the proposed changes from fans, competitors and officials.
'Very encouraging'
The DED's Chief Executive, Colin Kniveton said: "We have spoken to people from all corners of the globe and all are keen to be a part of this new event."
"We have also had a very encouraging response to our plans for the race regulations from existing MGP classic competitors and machine owners, teams and riders. We now have a huge amount of work to do to develop our plans."
The government had wanted to re-name the entire event using the TT brand, shorten it and focus on classic bike racing.
Opposition from the island's motorcycling community has led to fewer changes being made for 2013.
Last month the Manx Motor Cycle Club and the DED announced they had reached an agreement on the future direction of the Manx Grand Prix Festival.
Early plans include the potential for a four-day festival of motorcycling nostalgia to support the Classic TT Races.
The proposals also include a revamped race programme and race regulations including new classes for Formula 1 and Formula 2 machines from the late 1980's and early 1990's.