Manchester police killings: Isle of Man friends' tribute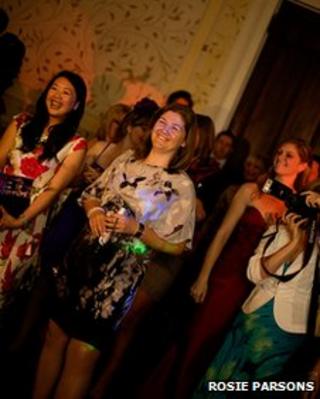 Friends of a police officer who was killed in a gun and grenade attack in Greater Manchester have paid tribute to her.
PC Fiona Bone was killed alongside PC Nicola Hughes after apparently being lured to Mottram by a hoax burglary.
PC Bone moved to the Isle of Man from Derby with her family in 1997, before studying for a degree at the University of Central Lancashire in Preston.
She spent two years at Castle Rushen High school studying for A Levels.
Brian Boyle, who has known her for 15 years, said: "She was one of the most lovable and cheerful people you could ever meet.
"Fiona always referred to the Isle of Man as her home, she came back every Christmas and we always celebrated her birthday together on New Year's Eve."
PC Bone, 32, who was described by the force as an "excellent bobby", was planning to get married next year. She had lived in Port St Mary.
One of her best friends, Shan Fisher from Port Erin, had offered to be the official photographer.
'Future hopes'
Mrs Fisher said: "I just wanted to do something special for her. She was one of my best friends and she was an usher at my wedding.
"I had an email from her two days ago telling me she was planning to try on her wedding dress soon. She was so in love with her partner - I just can't believe what has happened."
A spokesman from Castle Rushen High School said a flag will be flown at half-mast on 19 September. A flag is also being flown at half-mast at the Isle of Man's airport where Ms Bone's father works.
Although PC Bone left the island in 1998, she returned regularly and maintained a strong network of friends locally.
Juan Watterson, now the Manx Home Affairs minister, was a close friend from school.
He remembers bringing in the new millennium with a "big gang of friends", of which Fiona was a part.
"We watched the sunset on the old millennium and we talked about our hopes and dreams for the future," said Mr Watterson.
"It's hard to reconcile with what has happened."
Former Chief Constable of the Isle of Man, Robin Oake, lost his son in January 2003, when he was stabbed in the chest during a counter terrorism operation in Manchester.
Stephen Oake, 40, was a plain-clothed special branch officer with Greater Manchester Police.
"When I heard about the deaths of PC Bone and PC Hughes, it brought back a lot of pretty awful memories," said Mr Oake.
"After I overcame the initial shock, my first thoughts were for the families of these women - they have now got to deal with the loss and that is not easy," he continued.
"As a family, we coped partly because of our Christian faith and the fact that we were able to forgive the fellow who was found guilty of killing Steve.
"It is not the natural response of course but all that I can say is that my family felt it was part of the healing process, we sat next to our son's killer all the way through his trial at the Old Bailey and we never once felt vengeful - we were actually praying for him and I still do, I still pray for him," said Mr Oake.
Dale Cregan, 29, is being held on suspicion of the murder of PCs Bone and Hughes, and two others.