Manchester police deaths: Isle of Man book of condolence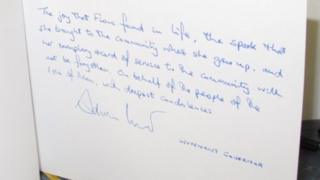 A book of condolence has been opened in the Isle of Man in memory of one of two police officers shot dead in Greater Manchester.
PC Fiona Bone, from the Isle of Man, and PC Nicola Hughes, from Oldham, died from gunshot wounds in Mottram.
The Isle of Man's Lieutenant Governor, Adam Wood, was the first person to sign the book, which will be kept at Port Erin Police Station.
A police spokesman said it was a chance for people to "pay their respects".
PC Bone moved to the Isle of Man from Derby with her family in 1997, before studying for a degree at the University of Central Lancashire in Preston.
She spent two years at Castle Rushen High school studying for A Levels.
Dale Cregan, 29, has been charged with the officers' murders, along with those of two other men.
Greater Manchester Police has opened online books of condolence on its website and others have been opened at Manchester Town Hall and Hyde Town Hall.
The funerals for PCs Bone, 32, and Hughes, 23, will take place at Manchester Cathedral next Wednesday and Thursday.
PC Hughes's service will be held at 13:00 BST on Wednesday, with PC Bone's being held the following day at 10:00.
A spokesman for Greater Manchester Police Federation said the force was "engaged in discussions with the families as to precisely what the arrangements will be for each service".
He said that "early indications" suggested the force would be taking up offers of assistance by officers from around the country to cover shifts and allow GMP staff to attend the ceremonies.
On Tuesday, about 400 people, including 40 officers, attended a service in Mottram, which featured addresses from Greater Manchester Police Chief Constable Sir Peter Fahy and the Reverend James Halstead.