Isle of Man airport figures fall for third month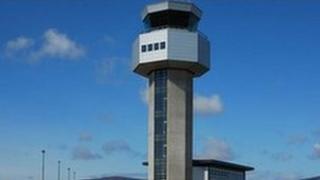 Passenger figures for the Isle of Man's airport have fallen by about 3% for a third consecutive month, according to government statistics.
Almost 64,000 passengers used Ronaldsway in August, nearly 2,000 fewer than the same month in 2011.
Airport Director Ann Reynolds said she was "disappointed".
UK Civil Aviation Authority figures show that two thirds of airports in the British Isles suffered decreases for the months of July and August.
According to their figures, 36 of the 58 reporting airports in the British Isles suffered decreases in August, including the Isle of Man, and three quarters of these airports saw greater declines than Ronaldsway.
Factors including the Olympic and Paralympic Games and the poor summer weather have also been suggested as causes.
Miss Reynolds said: "The reductions of 3% concerned me, although I learnt of a similar pattern emerging with UK regional traffic as a whole.
"Looking at how UK and Channel Islands' Airports have performed during July, primarily due to the 'stay-home' impact of the Olympics, I remain comfortable that we are still keeping pace with the overall trend of air traffic performance."
August saw small decreases in Isle of Man passengers across many routes, with the major impact coming from the withdrawal of the Southampton route, which had generated more than 1,800 passengers in August 2011.